Customer Reviews
Customer Reviews
Write a Review
Ask a Question
05/11/2022
Toni R.

United States
Love this stuff
Dissolves my makeup and makes my skin so soft.
04/29/2022
Ali

United States
I want to like it but it makes my eyes burn :/
I will not lie, this product really really works. It gets rid of my make up, it doesn't feel greasy on my skin, it's solid! That being said, my eyes reaaaally don't like it. As someone who doesn't wear any make up other than brows or eyes, I can't really use it. I find that my eyes don't sting or anything while I'm using it, but a few minutes after they will start to sting, water, and they'll be a little red for about an hour or two after the fact. So I'm giving it three stars because I like it but unfortunately my eyes do not. That being said, if I wore other types of make up, I would totally use it and just avoid my little eye balls. I'd still recommend it though!
Thank you for taking the time to review your ITEM Beauty purchase! Please check your inbox for a follow-up message from us.
02/05/2022
Livia

Sweden
The best
I'm obsessed with this product! I have done my makeup for years but no makeup remover have even been this good. I can't believe i haven't tried it until now. I never wanna change now. It feels amazing on the skin and goes sooo fast. It just dissapear. Not much product needed at all. It also smells good. I just love everything about this product and the other skincare products was really good too!!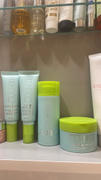 01/27/2022
Amira A.

United Arab Emirates
Hi Item beauty i loved all of The items i got Thankyou so much i'll be back soon ♥️
Very nice i just tried the mascara it's amaizing and the balm of removing makeup it's fantastic i have no words to describe how good is it Thankyou so much addisonrae you knew how to make a makeup♥️
01/22/2022
Ashley B.

United States
Amazing
This is the coolest product ever! I was given a sample through Ipsy and this is the only item I have ever gone out and bought more of after the sample. Normally, the makeup removal process is tedious. It requires a lot of special attention around the eyes, both to be gentile to the sensitive skin and to fight with waterproof mascara/liner/dramatic shadows. Then after all that you have to wash your face and still end up with black smudges around the eyes. This product is so much easier! Massage it on your face, with a little extra attention around the eyes then rinse. Donezo. No next step with a cleanser and most importantly, no leftover black smudges! When I use a toner after using Slick Type, there is absolutely no foundation left that I'm seeing come up with toner. Before Slick Type, after using a makeup remover then cleansing, I usually still had some makeup residue that came off on my toner pad. I don't understand this sorcery. I had to buy more for gifts!