Customer Reviews
Customer Reviews
Write a Review
Ask a Question
04/18/2022
Anonymous

United States
Love the staying power.
I loved how the powder went on.
02/28/2022
Anonymous

United States
Awesome
I have enjoyed using the products so far so good
11/24/2021
Kit

United States
Where has this been my whole life?!
I love a minimalist makeup look for my every day makeup, and I love easy… I have three kids so I want to be able to just look put together and not like a zombie. I like my skin to look like my skin and this powder makes me look amazing! It blurred out my imperfections and just looks like I have nice, clean skin. I threw on a little bit of blush, some shadow and mascara and I'm good to go run my errands not looking like the Walking Dead I used the translucent because I'm so fair, I wasn't sure how fair the light would be. I've never used any translucent powders that do what this stuff does, it's amazing! I'm sold!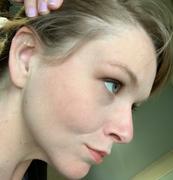 11/04/2021
Maddie L.

United States
Brush is confusing
I think this powder sets great it's just a lil hard not to make a mess
10/03/2021
Anonymous

United States
Light and Easy
I'm so pleased with this powder and how easy it is to use. It's very light but effective to smooth out the small imperfections. I use it all by itself with just a little blush on days at home. It's good as a base instead of heavier makeup.